Description
Anti-tilt device for soccer goals in a set of 3 pieces
The anti-tilt system includes wheels and counterweights. The anti-tilt device can be retrofitted and reliably protects the goal from tipping over. At the same time, there is the possibility to use and move mobile goals flexibly on the playing field. The anti-tilt device for soccer goals is screwed directly and firmly to the soccer goal with internal counterweights. A subsequent filling with sand or other weights on site is therefore not necessary. Our anti-tilt device is supplied with foamed air wheels that are suitable for all sports surfaces. They also have optimal running characteristics, so that even young people can easily move the anti-tilt goals.
The anti-tilt device for soccer goals is suitable, for example, for our training goals, youth goals and recreational goals!
Safety requirements for anti-tilt systems
The technical safety requirements for soccer goals result from the regulations of the municipal accident associations as well as DIN/EN 748. These specify that free-standing / mobile goals must be equipped with a ground anchorage (e.g. ground sockets, ground anchors, etc.) or suitable counterweights must be used in order to achieve the necessary stability. Particularly in the case of counterweights, the question arises as to what weight is actually required and which technical solution should best be used. In this context, we draw your attention to the fact that different counterweights are required depending on the type of soccer goal and the rear delivery. You can find the required weights in the table below.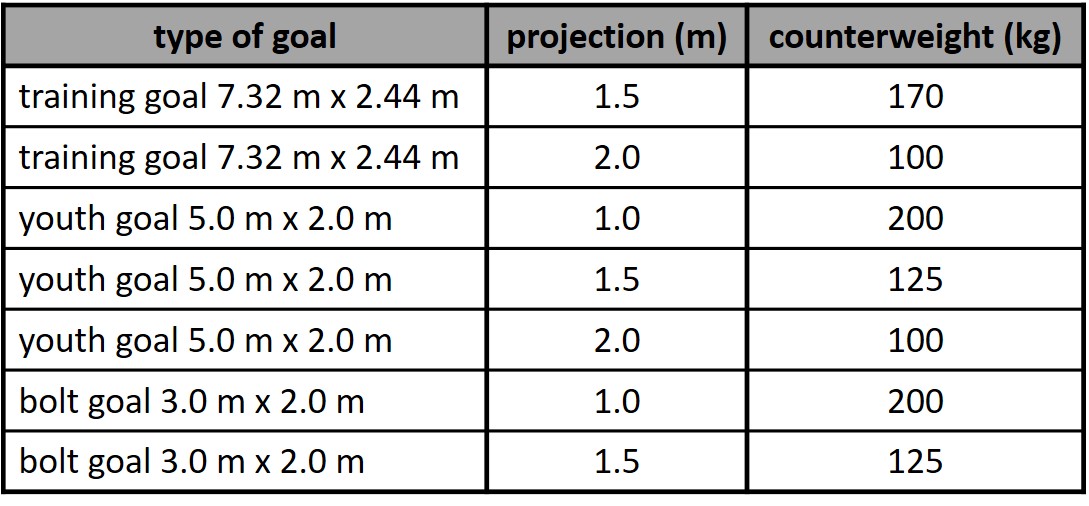 Excellent quality from the manufacturer
The retrofitting of anti-tilt systems is a rather complex subject, since technical boundary conditions (type of base frame, goal construction, quality of the welding seams, position of the goals, age of the goals, etc.) as well as technical regulations (e.g. DIN/EN 748) must be taken into account. Therefore, we at artec® have decided to advise our customers personally on the retrofitting of an anti-tilt system. To do this, simply use the inquiry function. After we have received your inquiry, we will contact you and compile the appropriate anti-tilt device for soccer goals, tailored to your individual needs and goals.
Buying arguments at a glance
Highest safety for the athletes according to current safety regulations
High-quality anti-tilt system made of aluminum profile and steel filling
Easy transport due to foamed air wheels
The pneumatic wheels are suitable for all sports surfaces
Can also be retrofitted to goals from other manufacturers
Scope of delivery: aluminum profile with integrated steel core filling including two special wheels to be screwed to the base frame, movable according to width or length.