Description
Robust shot put circle as prefabricated concrete part
The shot put circle (as precast concrete part) with a diameter of 213.5 cm and has the following features:
With ready poured concrete slab
With 4 inspection shafts (attached to the ring)
Made of special T-profiles
Precisely bent to size
Handicapped accessible design
Trough-shaped tilting cover can be coated with plastic coating
The shot put circle is certified by World Athletics.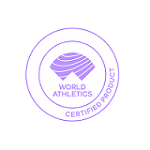 We inform our customers about the valid DIN regulations for shot put circles! Please have a look at other shot put products like our shot put toe boards or shot balls.