Showing 1–9 of 21 results
Showing 1–9 of 21 results
Buy hurdles and obstacles – directly from the manufacturer!
Hurdles and obstacles for track and field buy at artec® sports equipment in the highest quality directly from the manufacturer.
Track and field hurdles
The competition hurdles are made of aluminum and have a fully welded base frame. The hurdle bar is made of extremely flexible and at the same time stable ash wood. The hurdle can be adjusted to different heights:
68.5 cm
76.2 cm
84.0 cm
91.4 cm
99.0 cm
106.7 cm
According to the selected height, the counterweight must be adjusted. Both can be adjusted quickly and easily with the help of a brass lever. The adjustable heights correspond to the given guidelines, so that the hurdle can be used optimally for professional competition in different age groups. The artec® competition hurdle is certified by World Athletics.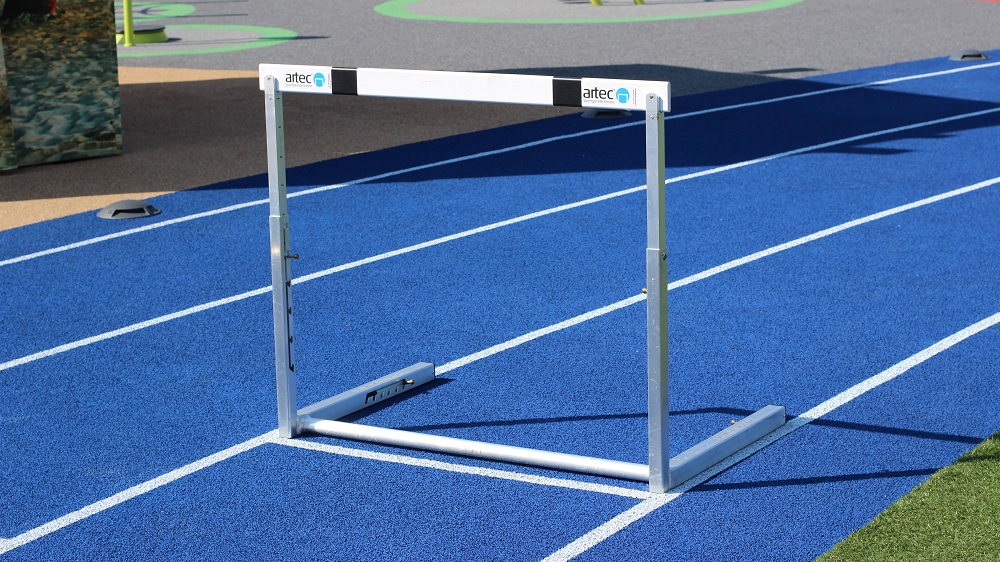 The basic frame of our hurdles for training is also fully welded from aluminum and is extremely stable. The hurdle bar consists of a tube made of plastic and can be adjusted to the following heights:
60.0 cm
68.5 cm
76.2 cm
84.0 cm
The training hurdles can thus be optimally adapted to the various training situations as well as to the athletes.
Moat and obstacles
For the obstacle course artec® has high quality obstacles in different designs in its program:
Entrance obstacle with a length of 5.00 m
Obstacle for hurdle race with a length of 3.96 m
Obstacle for the moat with a length of 3.66 m
The obstacles are certified by World Athletics and therefore suitable for national and international competition. The obstacles are made of robust aluminum profiles and a beam of glulam (spruce/fir). The moat obstacle is also mounted in ground sockets, while the other obstacles are equipped with steel weights in the feet to achieve high stability.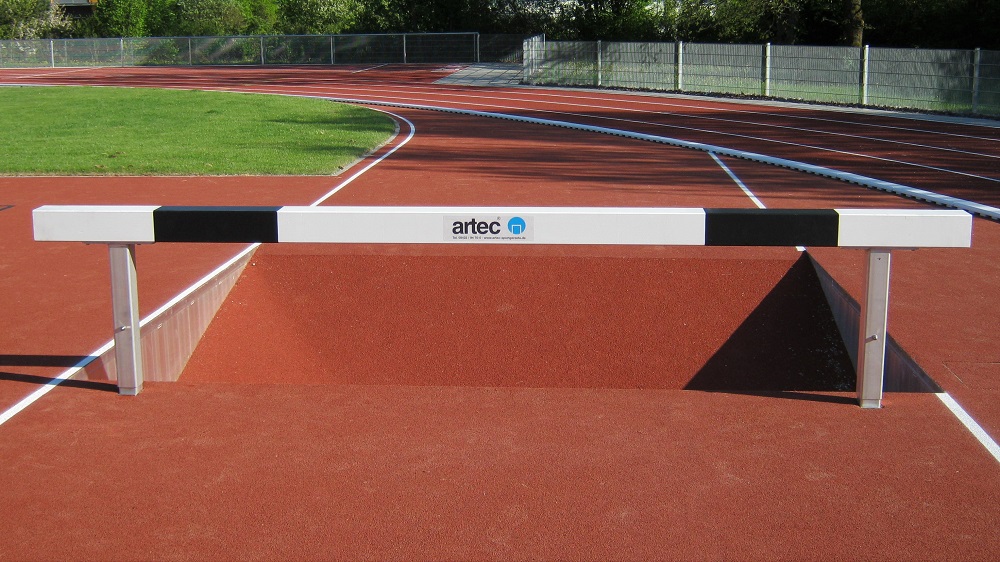 In addition to the obstacles, you can also obtain the equipment for the moat from artec®. This includes a 3-part moat construction kit, a moat cover, the appropriate support blocks for the cover as well as a supply shaft. So with us you get everything from one source – directly from the manufacturer and in the highest quality!
Transport of hurdles and obstacles
For the transport of the sports equipment artec® has the suitable transport trolleys in the assortment. These are available in different designs, so you are guaranteed to find the right product for your sports facility!