Buy soccer goals – directly from the manufacturer!
The soccer goals for professional use have a size of 7.32 x 2.44 m and are available in natural aluminum or white. The dimensions comply with the specifications of the DFB and FIFA. The goals also meet the valid safety standards, which are proven by a TÜV certificate and a GS seal.
The goals are characterized by a long durability. This is achieved through the use of high-quality materials and a robust manufacturing process. The soccer goals are manufactured from oval aluminum profiles with a strong wall thickness of 2.5 mm. The outstanding welds additionally ensure that the goal is extremely stable. The competition goals are mounted in ground sockets, which provides extremely high stability and safety for the athletes.
Large field goals from artec® sports equipment
The large field goals differ in terms of various features:
tension rods or net hoops
Soccer goals for competition can be equipped with tension rods or with net hoops. Tension rods are mounted in ground sockets, as well as the goal, so that the goal net is held securely in place.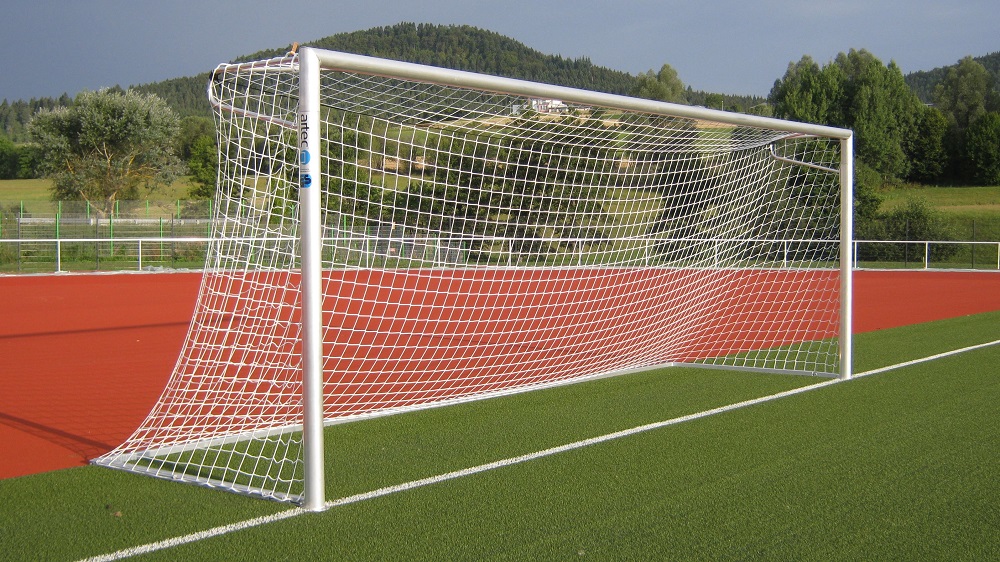 Goal projection
The soccer goals with tensioning rods have both an upper and a lower extension of 2.00 m. The goals with net hoops have an upper extension of 0.80 m as standard. A bottom frame with 1.50 m or 2.00 m can be optionally combined with these.
Net suspension
At artec® we distinguish between the premium net suspension and the easytec net suspension.
The net suspension in the premium variant describes the double deburred, milled net suspension. It has no sharp edges, which means that the net is fastened gently in the goal frame profile. The suspension points are thus located inside the aluminum profile. This means that there are no corners or edges, guaranteeing the safety of the athletes.
The easytec net suspension includes very flat designed safety net hooks. These can be quickly and easily fixed in the goal frame profile. By choosing the easytec goal net suspension, our customers get a cost-optimized soccer goal with consistent goal quality.