Buy soccer courts – directly from the manufacturer!
The soccer courts from artec® are made of steel or aluminum and ensure long-term fun due to the high quality! The mini playing fields enjoy great popularity and can be used for different purposes: For recreational bolting, professional soccer training or even at various events.
Size
As a standard, the Soccer Courts from artec® are available in the following sizes:
15 x 10 m
20 x 13 m
30 x 15 m
40 x 20 m
As a manufacturer, however, we can provide you with all the sizes you require. Please do not hesitate to contact us!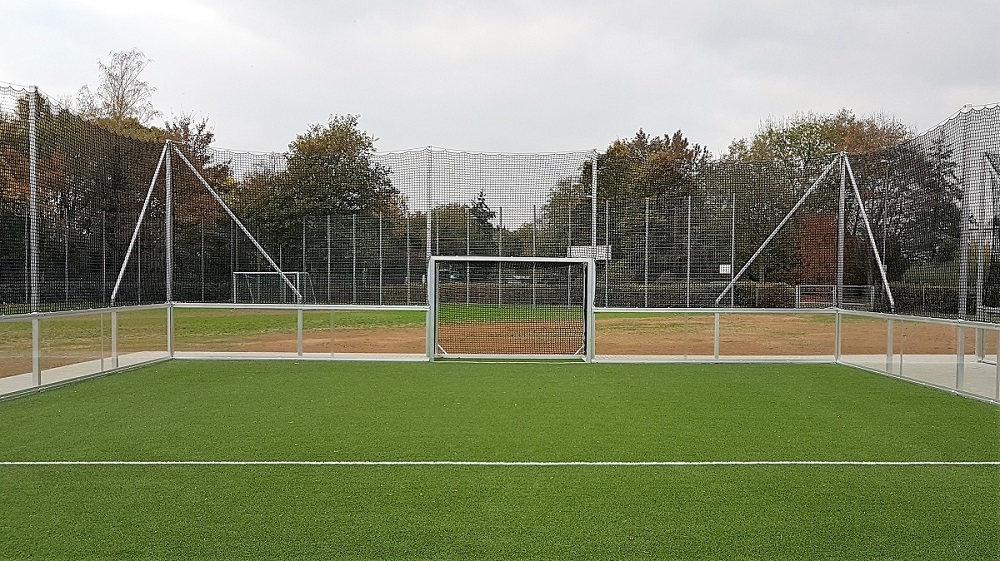 Stationary or mobile
The stationary soccer courts are permanently mounted in ground sockets. In addition to the playing field barrier with integrated goalposts, this mini playing field has a ball catching net to keep the ball in the field. The mobile mini playing fields, on the other hand, come without a ball catching system and can be used flexibly. They are ideal for various events such as street parties or company anniversaries – fun is guaranteed for young and old!
Material of the board
The mobile soccer court is equipped with a coplast barrier. The stationary mini playing fields are still available with boards in various designs:
Coplast
Acrylic
Sandwich elements
Especially popular with our customers are the soccer courts with glazed barriers. These offer the advantage that the game can be watched by all spectators even close to the boards. Even smaller children can comfortably look through the transparent perimeter and watch the game.
Special designs
In the standard version, the soccer courts are additionally equipped with 2 goalposts with an open back and side entrance as well as a ball catching device up to 2 m above the perimeter. If you have any further wishes (e.g. goalposts with a closed back, ball catcher also above the soccer court, etc.), our team will be happy to advise you!