Showing 1–9 of 33 results
Showing 1–9 of 33 results
Buy training goals – directly from the manufacturer!
The training goals have a size of 7.32 x 2.44 m. The goals are characterized by long durability. This is achieved through the use of high-quality materials and a robust manufacturing process.
Training goals from artec® Sportgeräte
The soccer training goals differ with regard to various features:
Aluminum profiles
The goal frame of the training goal is manufactured either in an oval profile with a material thickness of 2.5 mm or with a material thickness increasing from 4 to 6 mm (Bundeswehr standard). The ground frame, on the other hand, can be made of an oval, square or rectangular profile.
Goal projection
The upper projection is 0.80 m for all training goals due to the use of net hoops. The lower projection is 1.50 m or 2.00 m.
Net suspension
At artec® we distinguish between the premium net suspension and the easytec net suspension.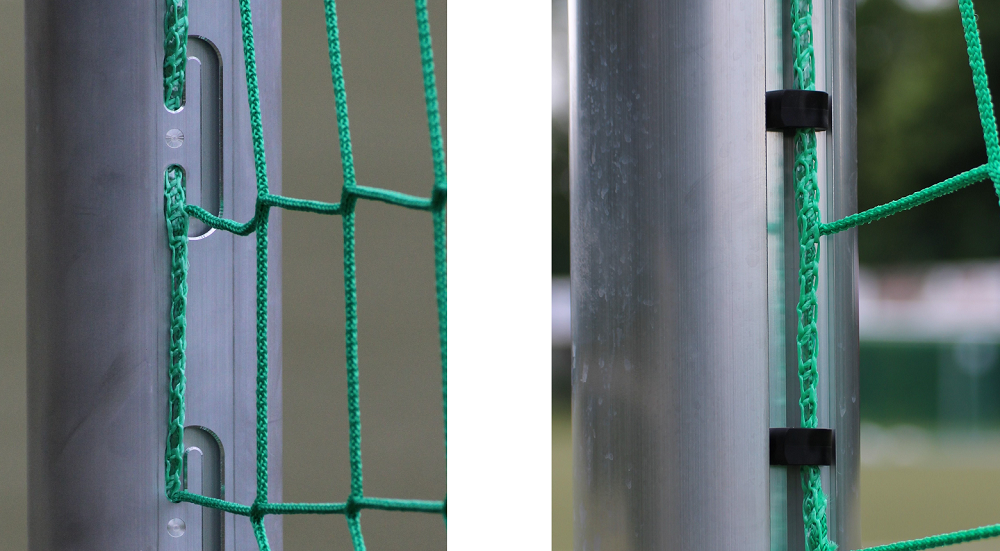 The premium net suspension describes the milled net suspension which is deburred on both sides. It has no sharp edges, which means that the net is very gently fixed in the goal frame profile. The suspension points are thus located inside the aluminum profile. This means that there are no corners or edges, ensuring the safety of the athletes.
The easytec net suspension includes very flat designed and safe net hooks. These can be mounted quickly and easily in the goal frame profile. By choosing the easytec goal net suspension, our customers get a cost-optimized soccer goal while maintaining the same goal quality.
Anti-tilt device
Some training goals are already equipped with an anti-tilt device ex works. This ensures a safe stand and prevents accidents. The anti-tilt device can be realized in different ways: As a weight in the ground frame or as an anti-tilt system with wheels and weights. Even if you choose a soccer training goal without anti-tilt device, it can be retrofitted at any time.