Description
Anti-tilt aluminum youth soccer goal
The aluminum youth soccer goal with counterweight in the ground frame has a size of 5 x 2 m. The goal frame as well as the ground frame are made of oval aluminum profiles (100 x 120 x 2,5 mm). The youth soccer goal is fully welded and has welded corner connectors. In combination with the use of strong welds, you get a youth goal of extremely high stability. The goal is also equipped with net hoops, resulting in an upper projection of 0.80 m and a lower projection of 1.50 m.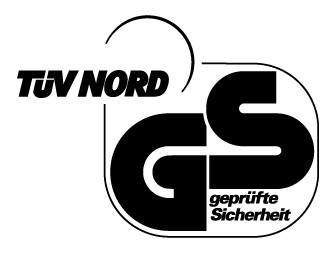 The youth soccer goal with anti-tilt in the ground frame complies with the current requirements of the DFB (German Football Association) as well as FIFA. It is manufactured according to the valid DIN 748 and is TÜV tested (TÜV – German Association for Technical Inspection).
Note: Goal net not included.
Net-friendly and exact hold of the goal net
The milled-in net suspension integrated in this youth soccer goal is very safe for the athletes. The goal net is mounted directly in the goal frame profile, so that no corners or edges protrude from the profile. The net attachment is also deburred on both sides. This ensures that the goal net is held in place with particular care and precision. The goal net is also mounted on the ground frame using a tensioning rope or alternatively using a rod system (not included). For this purpose, the youth soccer goal comes with eyelets welded to the ground frame.
Aluminum youth soccer goal with counterweight in the ground frame
The youth goal with anti-tilt device is secured from tipping over with the help of a counterweight in the ground frame. To achieve the desired mobility at the same time, it is also equipped with two special wheels (foamed air wheels with 250 mm diameter). These have optimal running characteristics. The youth goal is therefore mobile according to the width.
Goals in various designs directly from the manufacturer
Buy aluminum youth soccer goals directly from the manufacturer! With us you are guaranteed to find the optimal goal for your purpose: Whether youth soccer goals (optionally with anti-tilt system or integrated counterweight in the ground frame), soccer goals in the size 7.32 x 2.44 m, training goals, recreational goals or even mini goals – there is something for everyone! As a sports equipment manufacturer, we attach great importance to long durability and top quality in our products. Just choose the suitable goal in our online store and let us convince you! You are also welcome to find out more about the technical details of our goals for youth soccer.