Description
Competition hurdle for athletics made of aluminum and ash wood
The competition hurdle is made of aluminum, which makes it extremely stable and durable. For the safety of athletes, the aluminum profile used is rounded. The height adjustment is made in the upright support profile with the help of a brass lever. The following heights are adjustable:
106.7 cm
99.0 cm
91.4 cm
84.0 cm
76.2 cm
68.6 cm
The set height can be read off from a dimension scale embedded in the profile. The adjustment of the counterweight is made on the ground frame profile.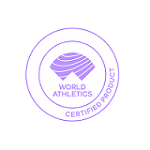 The hurdle top board is made of solid ash wood. This is on the one hand very stable and at the same time has an amazing elasticity. The competition hurdle for athletics also meets all safety-related requirements and is TÜV-tested. Moreover, it is certified by World Athletics and thus suitable for national and international competitions.
Athletics hurdles directly from the manufacturer
In addition to the high-quality competition hurdles, we also have training hurdles in our program. Please feel free to get more information about our different hurdles for athletics and their technical details!