Description
High quality pole vault landing area SILVER with slatted frame
The pole vault landing area SILVER with slatted frame is characterized by the following features:
For jumping heights from 1.60 m to 4.00 m
Spike protection with slidable lattice mesh
Wear mat made of firm PUR foam RG 20
Double hollow chamber system RG 23
Mat cover with carabiner quick release fastener
Incorporated air softening strip
Underfloor anti-slip
With integrated PE slatted frame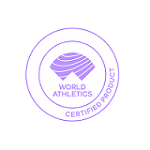 Measuring 8 x 6 m, the pole vault mat has a World Athletics certificate.
To protect the jumping mat from external weather conditions, we recommend a support platform, a rain cover and a safety cover. We also offer an overview of our robust track and field mats in various designs.